1. Yorkshire Water reservoir site rules are displayed in the car park. They must be adhered to.

2. Anglers will be required to produce evidence of a valid Environment Agency fishing license when purchasing a ticket. No license no ticket.

3. ALL LANDING NETS MUST BE DIPPED IN THE NET DIP LOCATED BY THE FISHERY OFFICE WHEN PURCHASING A TICKET.

4. Tickets are available from 7am to 6pm. Multiple tickets are not available. TICKETS MUST BE PURCHASED BEFORE COMMENCING TO FISH.

a/ Two fish limit for day tickets then catch and release.
b/ One fish limit for evening tickets then catch and release.
c/ One fish limit for junior tickets then catch and release. Under 12's must be accompanied by an adult at all times.

5. Tickets are for one single rod and line and are non transferable.

6. The fishery closes to visiting anglers at sunset Greenwich Mean Time.

7. Only rainbow and blue trout can be taken. All brown trout MUST be returned safely to the water.

8. Fish under 11 inches must be returned to the water.

9. Anglers are NOT allowed to share fish caught. IF YOU HAVEN'T CAUGHT IT YOU CANNOT TAKE IT.

10. FISHING METHODS ALLOWED ARE:

a/ Fly fishing with a maximum of two flys (one point plus one dropper).

b/ Spinning with one mepps type spinner fitted with one single shank hook.

c/ Bait fishing with either float, feeder or ledger using one single hook.

11. When bait fishing, maggot, worm and caster are the ONLY baits allowed.

12. A landing net must be used at all times. However, for fly fishermen, when wading and where appropriate, fish may be unhooked and released in the water.

13. No wading above the knee due to steep drop offs.

14. A traditional priest must be used to kill fish. No other object is to be used.

15. The maximum hook size is size 8 single shank. NO DOUBLE OR TREBLE HOOKS.

16. Anglers are not allowed to walk on or fish from the dam wall or within the area of the reservoir designated as a bird sanctuary (as denoted by signage).

17. No litter or line to be discarded on the bankside or in the carpark.

18. Fires, barbeques and tents are not allowed on the banksides.

19. Dogs are welcome but must be kept on a lead and under control at all times.

20. From time to time certain areas of the bankside may be roped off. At such times, fishing is not permitted within the roped area.

21. From time to time a small group of school children and tutors have access to the water. At such times, fishing is not allowed in the vicinity of the boat ramp and fishery office.

22. Please use the car park sensibly and respect the disabled parking bays. Be aware of the one way system for used for vehicular entry and exit.

23. Drugs and alcohol will not be tolerated at the fishery.

Please be aware, when purchasing Barnsley Trout Club fishing ticket, you agree to abide by the fishery rules and regulations. Infringement of any of the rules will result in anglers being asked to leave. Fishery bailiffs are present on the bankside at all times and carry out regular bag checks.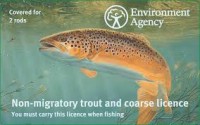 Purchase an Environment Agency Rod License Online
It is illegal to fish in England and Wales without an Environment Agency Rod Licence. If you intend fishing at Barnsley Trout Club you must produce proof of a valid rod license before a ticket will be issued. If you need to purchase an Environment Agency Rod License follow the link on the right.