Latest news and information

ANGLING TRUST PUTS OUT STATEMENT TO ANGLERS
The Angling Trust put out the following statement today:
We must all do what is required of us by the Government and work together to fight this pandemic. Therefore, until further notice we should all refrain from fishing. This is about saving lives and supporting the NHS. We have been in contact with the Government regarding its view on fishing as a permitted activity and hope to update you all shortly.
Latest News From Angling Trust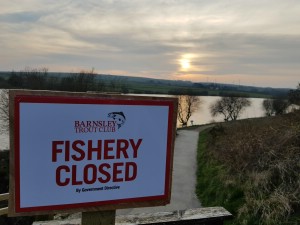 BARNSLEY TROUT CLUB IS NOW CLOSED TO BOTH VISITING ANGLERS AND MEMBERS
In the interests of safety, and following government advise, Barnsley Trout Club Is now closed to ALL anglers during the ongoing Coronavirus pandemic. This closure is temporary and angling will resume when restrictions are lifted.
YORKSHIRE WATER CLOSES ACCESS TO THEIR RESERVOIRS
Yorkshire water put out a statement this evening announcing that in the interests of public safety, they intend to close all their public car parks at their reservoirs and are requesting all visitors stay away. This is in response to the ongoing Coronavirus pandemic. Barnsley Trout Club fully support this action and will put out a statement to members on the 23/3/30.
BARNSLEY TROUT CLUB IS CURRENTLY CLOSED TO VISITING ANGLERS
Unfortunately, due to the ongoing public health crisis, Barnsley Trout Club is temporarily closed to visiting anglers. We apologise for the inconvenience and look forwarding to seeing you in the near future.